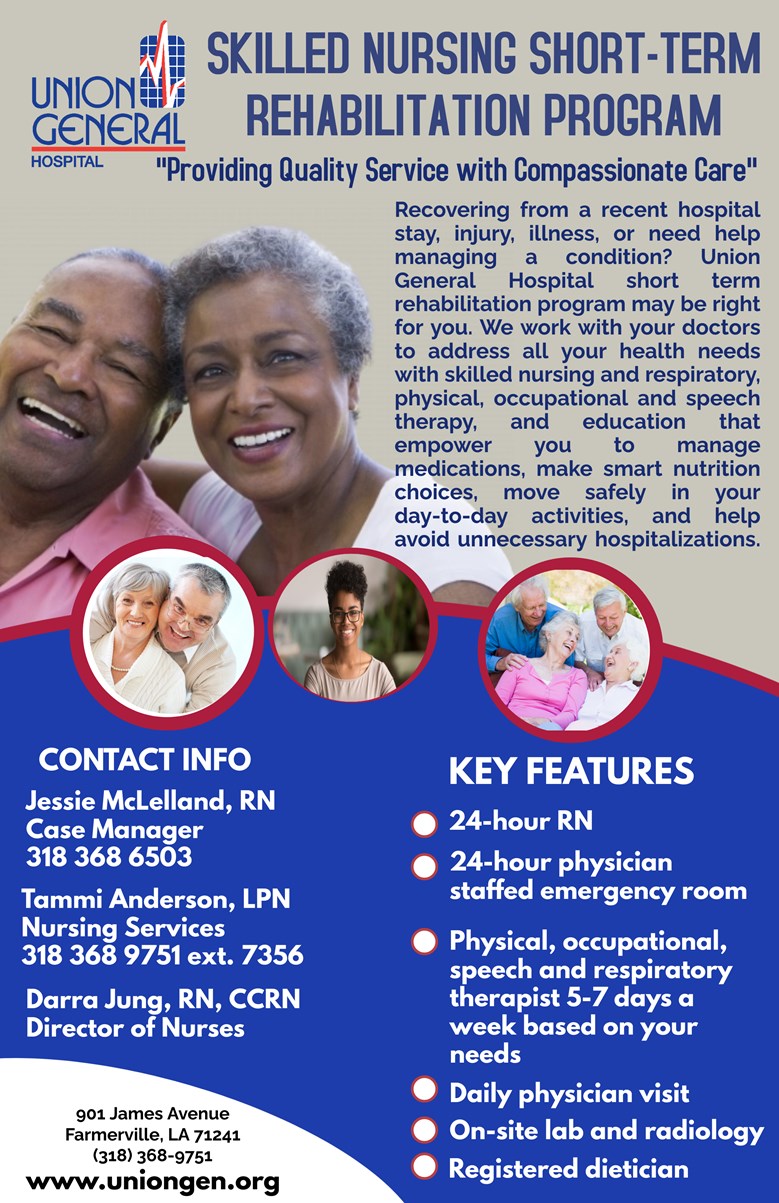 A hospital-based skilled care program is a comprehensive inpatient program for the individual who has had an acute event (medical or surgical) as a result of an illness, injury or exacerbation of a disease process.
This is a level of care that requires the daily involvement of skilled nursing or rehabilitation staff. Examples of skilled nursing facility care include intravenous injections and physical therapy. If you qualify for coverage based on your need for skilled nursing care or rehabilitation Medicare will cover all of your care needs in the facility, including help with activities of daily living.
Includes private room, meals, skilled nursing and rehabilitative services (physical therapy, speech therapy, occupational therapy and respiratory therapy) and other services and supplies.
Medicare Eligibility Criteria
Enrolled in Part A Medicare and has days available (up to 100 days in a benefit period)
Has had 3 consecutive day hospital inpatient stay in an acute care hospital within the last 30 days. (3 midnights)
Need for skilled care on a daily basis provided by or under the direct supervision of skilled nursing or rehabilitation professionals.

Nursing x 7 days/week and/or
Physical Therapy x 5 or more days/week if that is the only skilled need

Skilled needs are related to the condition which was treated or arose during the inpatient stay
For referrals to Union General Hospital, please follow the following steps:
Your doctor must certify that you need daily skilled/care. Physician will write order for transfer to Union General Hospital Swing Bed.
Your Case Manager will contact the Union General Hospital Utilization Review department or Director of Nursing for patient referral.
Your Case Manager will fax to Union General Hospital the following data:

Face Sheet
History and Physical
Current MAR
Current orders
Current therapy notes
Any projected physician office visits, etc.

Union General Hospital will contact Case Manager to arrange pick up and transfer of patients that are accepted to our Swing Bed Unit.
For any questions about patient transfer, please contact one of the following:
Jessie McLelland, RN
Case Manager
318-368-6503
Darra Jung, RN, CCRN
Director of Nurses
318-368-7095
Tammi Anderson, LPN
Nursing Services
318-368-9751 ext. 7356